Technical Information
Size 220 x 100 x 40mm.
Weight approx 600g for the aluminium fascia version; approx 500g for the carbon fibre.
Main display shows speed (mph or kph) or revs.
Maximum theoretical top speed is 255 mph, although this will depend on your vehicle and sensor configuration.
Revs shown in bar or dot mode.
Programmable shift lights.
20 Minutes of recording.
16 LED brightness settings so you can adjust it for night driving to bright sunlight.
Acceleration Timer (0-60), Trip Computer, Non-Resetable odometer (for SVA), Fuel Gauge.
Digital temperature (degrees) or oil pressure (bar) readout.
For 12V negative earth vehicles.
Auxiliary lamp may be used for any purpose - e.g. neutral gear indicator on sequential gearbox.
To see an Evodash in Demo Mode look at the Videos page.
Full technical support is provided.
Options
The Evodash can be customised to your specification with the following selections:-
Fascia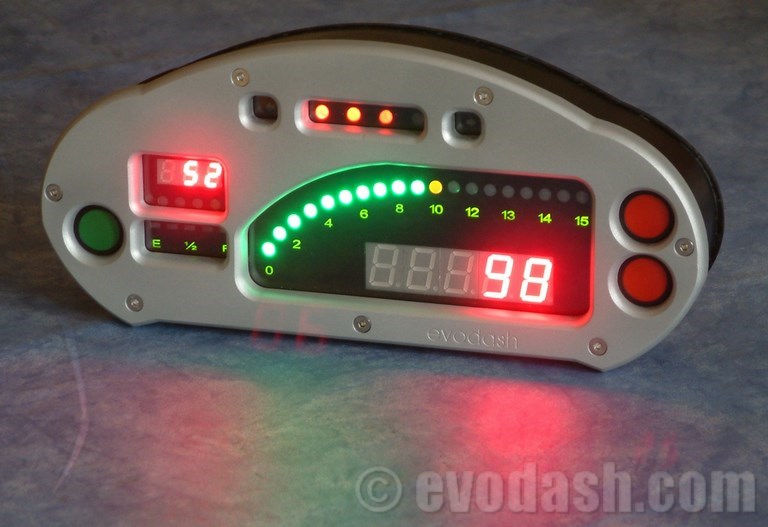 The Evodash is available with either an Aluminium fascia or Carbon Fibre.
Lighting themes
The Evodash is available with three lighting themes; Green/Amber/Red, Red/Blue and also as an All Blue theme.
Rev Ranges
The Evodash is available in the following scales to suit your engine:
0 - 5,000 RPM
0 - 6,000 RPM
0 - 7,000 RPM
0 - 8,000 RPM
0 - 9,000 RPM
0 - 10,000 RPM
0 - 11,000 RPM
0 - 12,000 RPM
0 - 13,000 RPM
0 - 14,000 RPM
0 - 15,000 RPM
0 - 16,000 RPM
Fitting
Evodash is supplied with a dash wiring harness, oil pressure sensor, temperature sensor, wheel speed sensor (see the Sensors page) and instructions. Two studs on the rear of the Evodash provide the mounting points.